CONDITIONS WE TREAT
Acne
Acne scarring
Ageing skin
Blemishes
Broken capillaries
Cellulite
Fine lines
Freckles
Mature skin
Open pores
Pigmentation
Redness
Rosacea
Sagging skin
Sensitive skin
Stretchmarks
Sun damage
Sun spots
Uneven skintone
Wrinkles
FACIALS
Sometimes daily cleansing and moisturising at home just isn't enough.

As well as the relaxation experience you feel during a facial, a professional treatment can make your skin feel alive again by renewing the damaged cells and improving your complexion.

Here at the Hyde Park Laser and Skin Clinic we have several facials available, ranging from deep cleanse facials to high-end active product facials.

We offer facials for both men and women of all ages as well as specific teenager treatments.

Initially your skin care professional will discuss your concerns and note anything you wish to improve about your skin. Your skin will be cleansed and assessed, followed by exfoliation, vitamin serums, massage and a mask. Extractions and other advanced electrotherapies may be incorporated into your treatment. You will leave feeling smooth, revived and fresh.
FAQ
What conditions can be corrected with a facial treatment?
Sensitivity
Acne
Oily skin
Dry skin
Sun damaged and prematurely aged skin
Congested skin with blackheads and whiteheads
Combination skin – oily and dry
Dark circles and puffiness around the eyes

What are the advantages of a facial treatment?
Facial treatments vary depending on the individuals needs and will be tailored to suit you by your skincare professional. Generally a professional facial treatment will use a blend of products and ingredients which are stronger than homecare products and this will boost your everyday routine achieving greater results from what you already do for your skin. Advanced techniques and electrotherapies may be incorporated into the professional treatment to stimulate the deeper skin cells and assisting the delivery of key nutrients into the skin.
How many treatments will I need?
As everyone is different, your skincare professional will work with you to plan an individual and realistic course of treatment.
This may be once a week or even once every few months.
I have sensitive skin, can I have a facial?
Yes. Obviously if you have sensitive skin, the products used will be gentle and calming to minimise any adverse reactions. Sensitive skin can benefit from professional facial treatments as it is often an impaired barrier function which encourages the skin to overreact to products. Barrier function can be restored with protective hydration and vitamins and minerals.
ACNE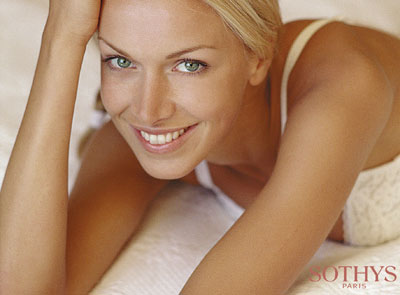 Acne is one of the most common, yet hardest skin problems to clear. Regardless of skin type or lifestyle, acne is common in both teens and adults.
The Hyde Park Laser and Skin Clinic provides a number of effective treatments and technologies for acne and acne scarring.
These include:
Laser treatment
Skin peels
Microdermabrasion
LED light therapy
Cosmeceutical products for home use

Our therapist will recommend which treatments are the most suitable to your individual needs and budget by providing an honest and realistic assessment. When discussing treatment options with your therapist, you will be advised both of your suitability for the treatment, costs and benefits.
ACNE SCARS

Acne scarring can occur in individuals with only minor acne or if the acne has been prolonged or severe. Generally an acne scar will appear if the acne has not been treated early and adequately.
If there is a family history of acne or acne scarring, it may increase your susceptibility to this problem.
Acne scars can range from red, sensitive skin to depressed indented scars that are thickened. Thickened types of red or brown scars are most commonly found on the jaw-line, back or chest. Indented scars, commonly referred to as ice pick scars, occur on the cheeks, chin and temples.
Our clinic can provide you with a number of treatments and technologies for all types of acne scarring, whether it be mild or severe.
These treatments include: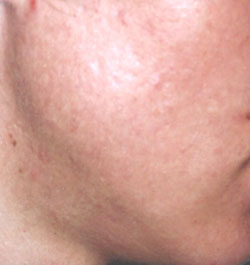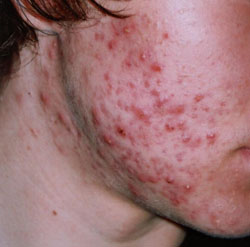 Skin peels
Laser and photo-rejuvenation
Microdermabrasion
Skin needling
Cosmeceutical skincare for home use
More importantly, our therapists cater to your individual needs and budget by providing you with honest and realistic outcome information in the consultation. When discussing treatment options with your therapist, you will be advised both of your suitability for the treatment, costs and benefits.
Please make an appointment for a private consultation with us.
BROKEN CAPILLARIES
Broken capillaries, cherry spots, etc. can be easily removed using the Y-Lite laser. This laser emits a very thin beam which can be accurately passed over very fine capillaries, causing them to disappear instantly without causing any damage to the surrounding skin.
Whilst broken capillaries can be anywhere on the face, they are usually more common on the cheeks, nose and chin and respond extremely well with this type of laser treatment.
Cherry spots and red capillaries on the body can also be treated successfully with this laser.
Normally only one session is required and your results are immediate, with virtually no recovery time needed.
A consultation is necessary to assess your condition prior to treatment.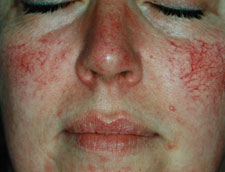 Before
After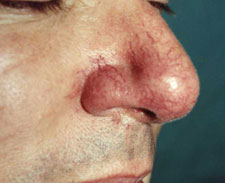 Before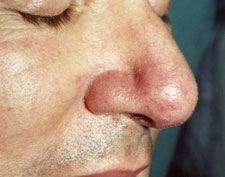 After
MICRODERMABRASION
Microdermabrasion is a safe, quick, convenient and effective treatment for all skin colours and types, from light to dark, dry to oily. It is particularly useful for people with dark skin who are unable to undergo a light based treatment.
Whether you have acne, blackheads or rough skin, or just want a quick pick-me-up, brighter, smoother skin is waiting for you with microdermabrasion treatments.
Microdermabrasion can treat leathery and dull skin, reduce acne scarring, reduce the appearance of enlarged pores and smooth fine lines. This age-defying process can give a brighter, smoother appearance to any skin area in need of exfoliation such as the face, neck, hands and chest.
Microdermabrasion is one of the most popular treatments in the world.
The benefits of microdermabrasion are crystal clear. They include:
Reduces hyperpigmentation
Helps fight the signs of ageing
Restores a healthy, smooth texture
Immediate signs of reduced fine lines and wrinkles
No downtime
Safe and effective
Effectively repairs and restores ageing skin
Cleans enlarged and clogged pores, white heads and black heads
Suitable for all skin types
Chemical free


MOLE REMOVAL
(no scar)
Many people have moles on their face or body which they want removed, purely because they do not like the look of them.
These can now be successfully removed with laser without leaving a scar. Normally only one laser session is required.
All moles, sunspots etc. should be checked by your doctor or skin specialist prior to any laser removal treatment.
During your consultation with us we will assess the areas before laser treatment commences.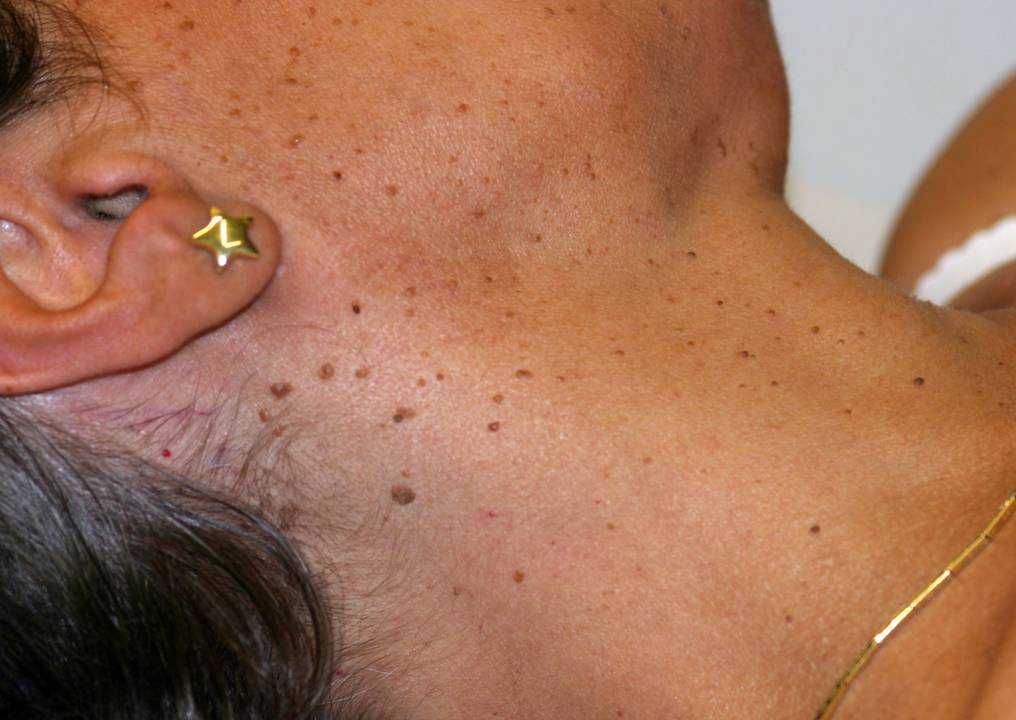 Before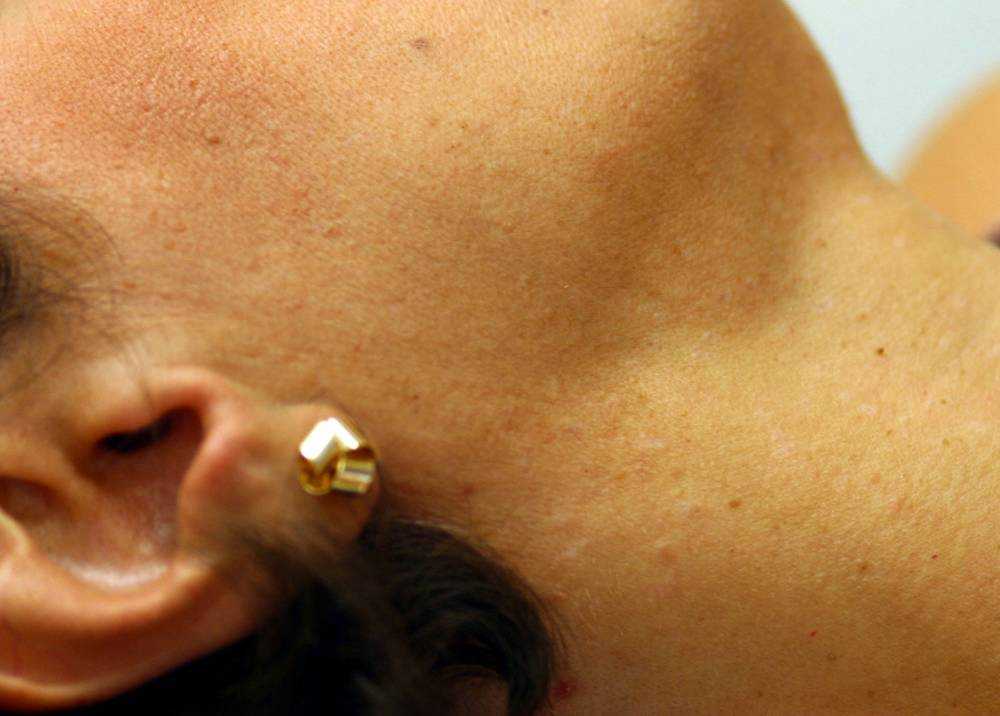 After
PDT/LED LIGHT THERAPY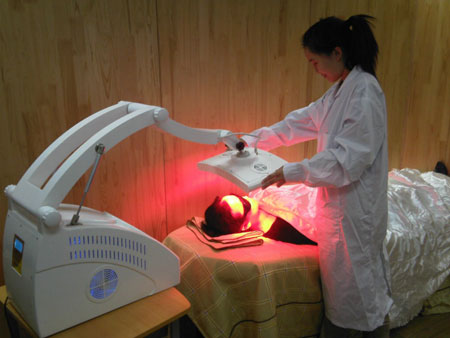 PDT (Photodynamic Therapy)/LED machines are the latest in advanced technology using various wavelengths to directly rebalance and heal the cells.
It is a stand-alone therapy that treats specific conditions with specific wavelengths that transmit their own frequency and vibration to stimulate a healing response.
PDT/LED can treat a vast number of skin conditions successfully and encourage cellular rejuvenation to the ageing skin. Here are some of the results:
Cellular rejuvenation, increases elastin and collagen production
ATP production
Treat acne and blemishes
Energizing rejuvenation
Lymphatic system, muscle toning, anti-ageing
Anti-inflammatory, calm red capillaries and rosacea
Increases cellular activity - soothing
Intercellular communication, reduces swelling, calms irritation
Purifying, antibacterial, blemished and oily skin, recent acne scars
FAQ
Light therapy has been used in Europe for over 30 years and has been the subject of over 2,500 scientific papers published worldwide.
There are no reported side effects to the treatments, which are pain free and non-toxic. PDT/LED therapy complements many other treatments, such as IPL, microdermabrasion, facials, and skin peels.
This technology was originally developed by NASA to grow plants in space where there is NO sun, to improve wound healing and tissue growth in space and it assisted with tired and fatigued astronauts upon their return.
L.E.D light is utilized also in the medical field and is commonly used to treat jaundice babies.
The potential of this technology was uncovered and introduced into the medical and now into the beauty industry.
L.E.D Light therapy treatments can be added to any other face treatment or facial to maximise results.
PIGMENTATION
Pigmentation, freckles and sunspots can be treated in several ways, depending on the size and severity of the problem. The main types of skin pigmentation are caused by UV (sun) exposure, hormones and trauma induced pigmentation eg. acne, burns, cuts etc.
Some skin types are more prone to pigmentation problems, depending on nationality and skin colour as well as environmental factors.
We have had great success with our clients in fading and eliminating their pigmentation concerns.
Treatment options are:
Laser
Skin peels
Microdermabrasion
Cosmeceutical products for home use
During your private consultation we will advise you which treatment is the most suitable for your condition, together with costs and benefits.

Before
After

Before
After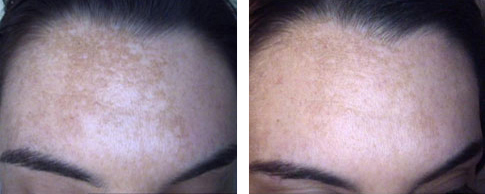 Before
After

Before
After
Before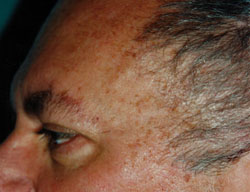 After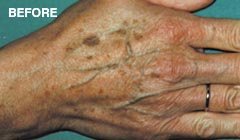 Before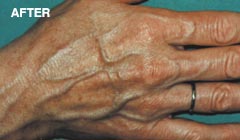 After
PHOTO-REJUVENATION

The latest advancement for younger, more beautiful looking skin is laser Photo-rejuvenation. This treatment minimises fine lines and wrinkles and rejuvenates dull skin while eliminating unsightly broken capillaries, rosacea, and uneven skintone.
This is the very latest in technology for younger looking and more beautiful skin. Photo-rejuvenation aids in the removal and repair of:
pigmented spots and freckles
sun damaged skin
signs of ageing with collagen damage
lines and wrinkles
acne scarring
stretchmarks
rosacea and skin redness
brown discolourations
It is also very effective on the neck area which can show signs of ageing with loss of elasticity etc.
Whilst it gives exceptional results on ageing skin, it is also suitable as an anti-ageing treatment for younger skin types who wish to maintain and improve their youthfulness.
This treatment is totally pain-free with absolutely no recovery time required, therefore it can even be done during a lunch hour!
Book a consultation with us now to find out more.
Before
After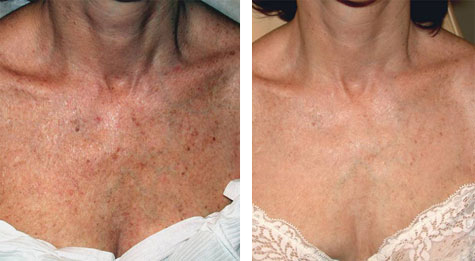 Before
After
SKIN NEEDLING

Skin Needling is an exciting new treatment which offers a safe and effective treatment for retaining youth, treating acne scars, wrinkles and stretch marks. Also known as CIT "collagen induction therapy" skin needling is effective because the underlying action of this treatment is stimulating a natural reaction in your skin to produce more of its own collagen.

During this treatment, special serums can be infused at a deeper level to increase the hydration of the skin.
This treatment is excellent for improving the quality of the skin, giving it a natural youthful glow.

This treatment is suitable for:
Acne scarring
Anti-ageing
Sun damaged skin
Fine lines and wrinkles
Skin firming
Pigmentation
Stretchmarks
Product Infusion
For further information on this treatment, please make an appointment with us for a personal consultation.
SKIN PEELS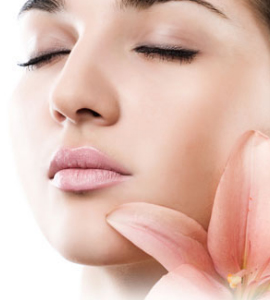 Skin peels that use alpha-hydroxy acids (AHAs), such as glycolic, lactic and citric acids are considered the lightest of all peel solutions. These superficial peels are often referred to as "lunchtime peels" and have quickly become the popular peel of choice for those who cannot spare the time it takes to recover from more aggressive chemical peel solutions.

AHA peels provide gentle exfoliation and skin rejuvenation results that retexture, smooth and brighten the skin. Rough or dry patches can be resurfaced, uneven pigmentation spots can be reduced and the look of fine lines and wrinkles can be improved as cell turnover is increased and damaged skin cells are shed.

Various concentrations of AHA peels with high levels of glycolic and lactic acid are very effective for the improvement of acne by removing plugs of keratin, oil and dirt that often lead to outbreaks.

We offer several peels depending on the individual skin type and there are no side effects or recovery time required. Your skin will look and feel instantly smoother and fresher!
This treatment is excellent for:

Lines and wrinkles
Coarse skin
Sun damage
Pigmentation
Acne and scarring
Open pores

If you would like further information on skin peels, please feel free to call us.
WRINKLES

We have a number of treatments and technologies available for wrinkles and loss of skin elasticity. Our trained specialist will cater to your individual needs and budget by providing an honest and realistic recommendation during your consultation.
When discussing treatment options with your therapist, you will be advised both of your suitability for the treatment, costs and benefits.
The treatments available for wrinkles include:
AHA Skin Peels
Laser Photo-rejuvenation
Skin Needling
Microdermabrasion
PDT/LED light therapy
Cosmeceutical products for home use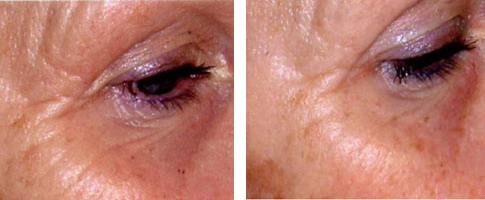 Before
After

Before
After
Before
After